This time, we are going to deal with the famous Kerala break fast dish called the Puttu and Kadala, which otherwise called to as Steam cake and Channa curry. This is something which is so easy to cook, delicious to eat and healthy too. Check, the whole article to find your convenient combination too!
Tip:- In order to make puttu, you can use a special kind of apparatus called puttu maker. You can purchase it from shop or if you are a non keralite, you can follow this link to buy it online. (Click here).
If else, you can cook the mixture of puttu ingredients, which I am going to tell you as you cook the fruits in steam.
Puttu
1. Coarse rice flour                –                  2 Cup
The instant powder for making puttu can be bought online by following this link.
2. Grated coconut                 –                  1 cup
3. Water                                 –                  As required*
4. Salt                                     –                  To taste (usually 2 cup flour requires 1-2 teaspoon salt)
* The water should be used to make it feel wet. Never make the flour appears to be soaked, so as to make it a cream that appears to be dough.
Steps for preparation
1.    Mix the flour with water and salt thoroughly, so that they wil not form any lumps. Even after the mixing they should be in powdered form itselves. Please don't make it dripping wet, if so you have to add more flour.
2.    Fill the mixture in the puttu maker. Don't forget to put the lid before filling the mixture! First make a layer of grated coconut which is thin and then fill 2 handful mixture of flour. Repeat this in alternate layers till the cylinder gets filled.
3.    Pour water in the vessel part of the maker to its half and keep it in the stove and fix the cylinder atop this vessel.
4.    Steam it till it gets cooked.
Tip:
If you are not having the provision of procuring the puttu maker, the powdered steam cake can also be prepared. Just steam the mixture by filling it in a steel vessel, which is kept in a vessel with large mouth. Then boil.
The steaming can be done by following this method.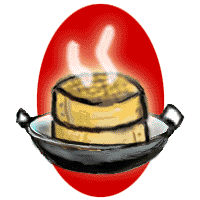 While steaming this method, you can stir it, and cook for around 10-15 minutes after the water starts boiling.
Kadala Curry/ChannaCurry/Bengal Gram Curry
1.    Black Bengal gram                 –                  1 Kilo Gram
2.    Coconut oil or palm oil         –                  100 ml
3.    Grated coconut                      –                  3 cups
4.    Garlic                                      –                  10 g
5.    Shallots                                   –                  150 g
6.    Mustard seeds                       –                  10 g
7.    Red chilli                                 –                  50 g
8.    Sliced onion                           –                  500 g
9.    Whole Coriander                   –                  50 g
10.  Turmeric powder                   –                  1 Teas spoon
11.  Red chilli powder                   –                  1/2 Tea spoon
12.  Curry leaves                           –                  2 Springs
13.  Garam masala powder          –                  2 Tea spoon
14.  Salt                                          –                  To Taste
Steps of Preparation
1.    Boil black channa with water (Cook it in pressure cooker till it whistles thrice)
2.    Place a pan on full flame which is somewhat deep and sauté grated coconut, shallots, red chill, coriander, curry leaves and garlic in a little coconut oil aka palm oil till golden brown.
3.    Keep the sautéd mixture to cool and then grind it to make a coarse paste.
4.    Now, sauté mustard seeds, sliced onions, chilli powder, coriander powder coriander powder and garam masala powder in the same order.
5.    Add the boiled channa (with water) to this sauted onion and garam masala mixture and sir it slowly but thoroughly.
6.    Finally add the grinded mixture to this and keep it on the flame for 2 to 3 minutes and stop when it starts boiling yet again.
7.    Add salt according to your taste and keep it closed for few minutes before you serve.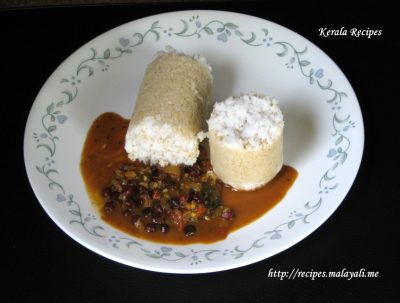 Combinations:
If you are not able to prepare the channa curry or too lazy to work on that, after seeing its ingredients, here are some combinations, so you can eat it without a curry.
1. Puttu & Chicken curry (Gravy is enough)
2. Puttu & Small Banana
3. Puttu & Sugar